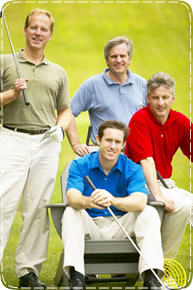 • Featured Pro's •
Alameda Junior Golf Club in Alameda, CA
Lone Pine Golf Club - Maintenance in Washington, PA
Swing Time Family Golf Center in Germantown, WI
Cottonwood Creek of Chickasha in Chickasha, OK
Fort Hays Municipal Golf in Hays, KS
J & M; Golf Cart in Marion, IL
Sugar Tree Golf Course in Weatherford, TX
High Point Country Club - Professional Shop in Naples, FL
Kissimmee Bay Country Club in Kissimmee, FL
Davenport Park & Recreation in Davenport, IA
Country Oaks Golf Course in Athens, TX
Putt Putt Golf & Games in Willoughby, OH
Tartan Park Golf Course in Lake Elmo, MN
River Ridge Golf Club in Oxnard, CA
Scarlet Oaks Country Club in Poca, WV
Local Golf Courses and More
The basic idea of golf is really simple: get the ball in the hole. However, golf has many rules and regulations that takes a simple concept and turns it into an incredibly difficult and popular game. The game has been around for over five centuries and the game has been modified over time.
In modern days, there are multiple golf courses that can be used and there are courses that consist of either 9 or 18 holes. The rules of the game are designed to be fair for all players, with the most known rule being play the ball where it lies, which simply means a player can't move the ball from where it landed. Clothing has even been designed to allow players freedom of movement during their game, and amongst some players it has become their fashion statement.
Golf is a popular sport today not only to play but to watch. Some golfers have become famous from playing world tours and have acquired promotional deals with companies that sell golf equipment such as shoe and clothing companies. The PGA and LPGA tours have television specials as well as sell tickets for spectators and fans to watch the game up close and personal.
Welcome New Companies:



Villages Golf Cart Man, LLC



We are The Villages Golf Cart Man located in The Villages in Sunny Florida. We Rent, Sell, Service Golf Carts and LSV's (Low Speed Vehicles). We are...



Lady Lake, fl
Latest Reviews:



Highland Golf Center in Milford, MI
from Tom S
Sorry to see you go. Good Luck. Thanks for the good times and the bad times....Details
From Our Blog:
Are Golf Gloves Worth Wearing?
The golf glove is something that you see on every golfer's less dominant hand. It kind of makes some golfers wonder why they even need this. The glove serves more of a purpose than you might think. Not only does the fact that you are wearing it make a difference in your game. It also will help in making sure that you will be able to have exactly what you will need to make sure that you will be... Continue Reading