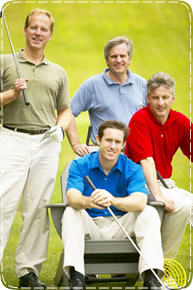 • Featured Pro's •
PGA Tour Shop in Philadelphia, PA
Bethpage State Park in Farmingdale, NY
Sports Authority in Tulsa, OK
Bulrush Golf Club in Rush City, MN
Hurryville Driving Range & Par in Farmington, MO
Royal Oak Country Club in Greenwood, IN
Pine Shadows Golf Center Professional Shop in Lake Charles, LA
Risch's Drive & Putt in Sarver, PA
Still Waters Resort in Dadeville, AL
San Pedro Driving Range & Par in San Antonio, TX
The Frosty Putter Miniature Golf Course in Lewisberry, PA
Meadow Acres in Larchwood, IA
Hurley Brothers Golf Carts in Climax, GA
Golf Arsenal in Temple, TX
Maple Lane Golf Course in Livermore, ME
Golfers Driving Range Directory
For those who need to practice or simply don't have the time for a full game of golf, driving ranges are available. Driving ranges have multiple locations for a person to stand and practice their swing. A person may purchase a bucket of balls that vary in numbers between 30 to 200, depending on how much practicing a person is looking to do. Golf clubs may be rented or customers may bring their own in with them.
Private golf clubs and public courses may have driving ranges available on location, although driving ranges can stand alone in smaller areas. In order for people to know how far they're hitting, there are markers or numbers located across the green at various distances. Balls are picked up by a special cart that travels around the green. The driver of the cart is protected by a large cage.
Golfers who might need some additional help with their technique may find golf professionals on site at driving ranges. These professionals can give golf advice and work with golfers on their swing. Not all driving ranges have this service but may have golf shops that sell books on golf tips and strategies.
Advanced Search: