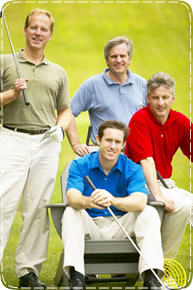 • Featured Pro's •
Hunting Hawk Golf Course in Glen Allen, VA
Brady Golf Course in Brady, TX
Fondulac Park District in Peoria, IL
Mid-America Golf & Turf Equipment in Lake Ozark, MO
River Oaks Golf Club in Grandview, MO
Island West Golf Professional Shop in Bluffton, SC
Minnehaha Country Club - Professional Shop in Sioux Falls, SD
Mira Vista Golf Club in Fort Worth, TX
Cobble Hill Golf Course in Elizabethtown, NY
Morgan Sand CO in Marston, NC
Brad's Golf Cars in Mooresville, NC
Dynacraft Golf Products Inc in Newark, OH
Forty Niner Country Club in Tucson, AZ
Macks Golf Station in Monroe, MI
Pine Meadows Golf & Country Club - Maintenance in Eustis, FL
Golf Equipment and Gear Stores
Non-golfers might assume that golf equipment shops only carry golf balls and golf clubs, and thus wonder what the point of having a whole store is. Golf equipment shops carry everything a golfer needs, not just the basics. They carry a wide selection of golf shoes, clubs, balls, and even clothing for golfers.
The most important piece of equipment for any golfer is the golf club they use. Golf equipment shops carry many clubs from just about multiple manufacturers and have every type of club from drivers to putters. They sell the clubs either separately or in sets that include every club a golfer needs to get started on their game. Clubs may also be custom fit for the serious golfer, taking into account the height of the golfer and the size of their hand.
What a golfer wears on the course is also important for their game. The clothing needs to be able to move with them and golf equipment shops carry clothing for men and women. Men's clothing includes loose lightweight pants and for women there's golf dresses that won't restrict movement. The type of shoes a golfer wear contributes to their game as well.
Advanced Search: