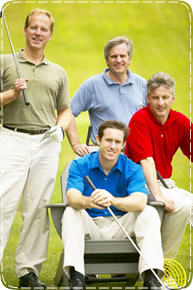 • Featured Pro's •
Foxwood Golf Club in Little Rock Air Force Base, AR
NEEL Derouen Teaching Academy in Lake Charles, LA
Ness County Country Club in Ness City, KS
Red Hawk Ninth Street Driving in Kalamazoo, MI
Aserta Sports Inc in Chandler, AZ
Barton Creek Lakeside Country Club - Golf Professional Shop in Marble Falls, TX
Copper Ridge Golf Club in Davison, MI
Meadow Oaks Golf & Country Club in Hudson, FL
Hills at Perkiomen in Pennsburg, PA
Belleair Country Club - Catering & Banquets, Clubhouse, Memberships in Clearwater, FL
Apres Golf Incorporated in Caledonia, NY
Davey Golth in Goodrich, MI
Midwest Golf Car Inc in Sioux Falls, SD
Kewanee Park District in Kewanee, IL
Centennial Lakes Park in Minneapolis, MN
Local Golf Courses and More
The basic idea of golf is really simple: get the ball in the hole. However, golf has many rules and regulations that takes a simple concept and turns it into an incredibly difficult and popular game. The game has been around for over five centuries and the game has been modified over time.
In modern days, there are multiple golf courses that can be used and there are courses that consist of either 9 or 18 holes. The rules of the game are designed to be fair for all players, with the most known rule being play the ball where it lies, which simply means a player can't move the ball from where it landed. Clothing has even been designed to allow players freedom of movement during their game, and amongst some players it has become their fashion statement.
Golf is a popular sport today not only to play but to watch. Some golfers have become famous from playing world tours and have acquired promotional deals with companies that sell golf equipment such as shoe and clothing companies. The PGA and LPGA tours have television specials as well as sell tickets for spectators and fans to watch the game up close and personal.
Welcome New Companies:



Zarlingo's Golf Cars,LLC



Fairplay Golf Car Dealer, Custom Golf Cars, Service and Sales of all brands of Golf Cars, Turf, & Utiltiy Cars. GEM Dealer /Warranty Center, Sell ZAP...



Grand Junction, Co
Latest Reviews:



Duck Creek Golf Center in Green Bay, WI
from Jonathan Varo
They've got a web site now. http://www.duckcreekgolf.com. They even have Facebook and Twitter running as well. I'm the one doing the web site, so I...Details
From Our Blog:
Are Golf Gloves Worth Wearing?
The golf glove is something that you see on every golfer's less dominant hand. It kind of makes some golfers wonder why they even need this. The glove serves more of a purpose than you might think. Not only does the fact that you are wearing it make a difference in your game. It also will help in making sure that you will be able to have exactly what you will need to make sure that you will be... Continue Reading